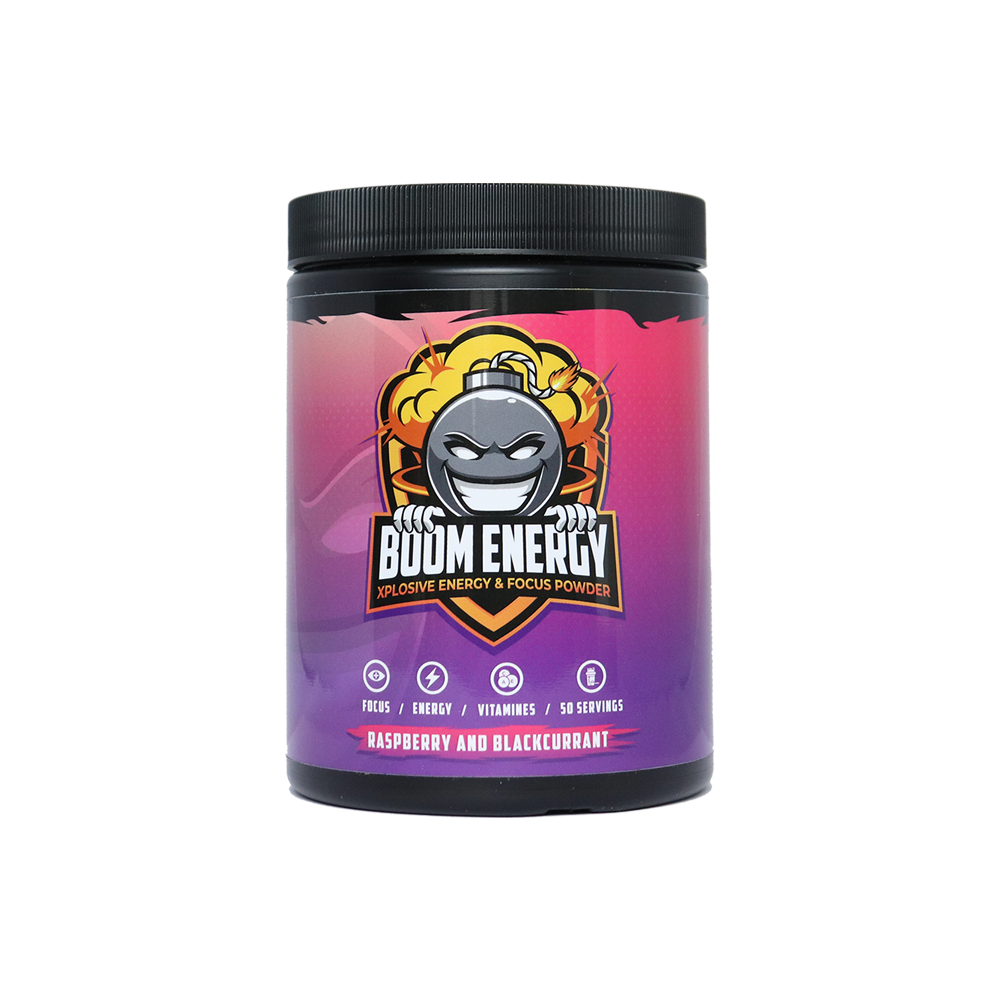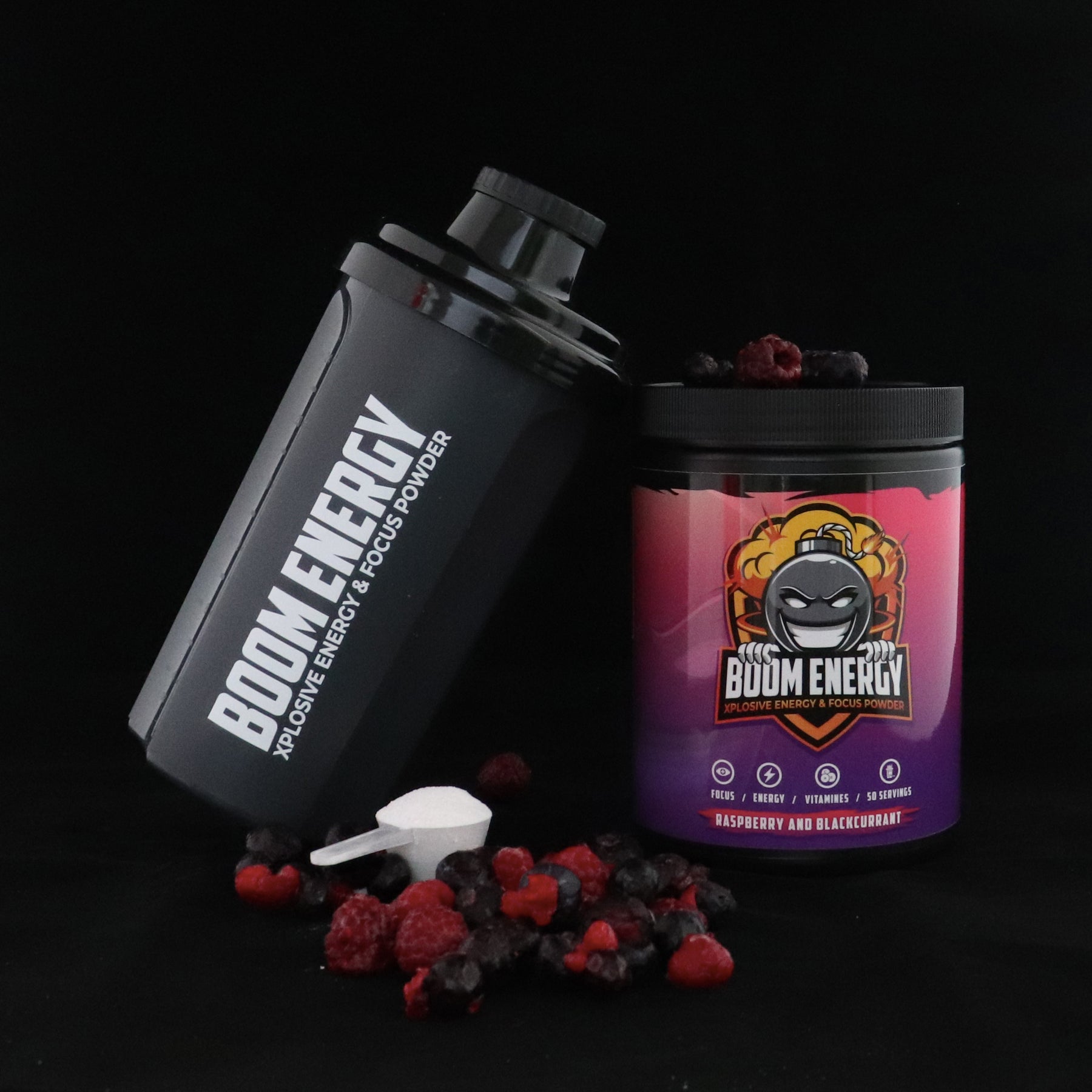 Raspberry & Blackcurrant
EVERYTHING YOU NEED TO KNOW
Introducing the Boom Energy Raspberry & Blackcurrant flavor, our popular and powerful purple drink. Experience a real taste explosion and get the extreme energy and focus you need.

Boom Energy is a delicious, sugar-free energy drink made from natural ingredients. Stay wide awake and uplifted with this refreshing flavor. Try our purple powerhouse for yourself and savor the delightful taste and powerful effects.
maltodextrin, taurine, vitamin and mineral blend (tri-potassium citrate, di-calcium phosphate, potassium chloride, maltodextrin, magnesium oxide, di-potassium phosphate, sodium ascorbate (vitamin C), iron pyrophosphate, dl-alpha-tocopheryl (vitamin E) acetate, zinc sulfate, folic acid, potassium iodide, nicotinamide, sodium molybdate, sodium selenite, retinyl (vitamin A) acetate, vitamin K1, calcium d-pantothenate, manganese sulfate, d-biotin, chromium III chloride, copper sulfate, cyanocobalamin (vitamin B12) ergocalciferol (vitamin D2), pyridoxine (vitamin B6) hydrochloride, riboflavin (vitamin B2), thiamine (vitamin B1)), acid: citric acid, l-tyrosine, natural flavouring, magnesium tri-citrate, caffeine anhydrous, ascorbic acid (vit. C), sweetener: sucralose, l -carnitine, coloring: carminic acid, nicotinamide (vit. B3), cholecalciferol (vit. D3), pyridoxine (vit. B6), cyanocobalamin (vit B12), coloring: brilliant blue
Nutrition                Per 100gr     Per 1 scoop (10gr)
Energy                   626,19KJ      62,62KJ
Energy                   148,16Kcal    14,82 Kcal
Fat                          0g                  0g
Carbohydrates     28,59g          2,86g
of which sugars   2,93g             0.29g
Protein                   10,00g           1g
Salt                          0.06g            0.01g
Vitamines and Minerals per 1 scoop (10gr)
Vitamin A 120,0 µg
Vitamin D 3,3 µg
Vitamin E 2,0 mg
Vitamin K 11,3 µg
Vitamin C 212,0 mg
Vitamin B1 0,2 mg
Vitamin B2 0,2 mg
Vitamin B3 8,0 mg
Vitamin B6 0,9 mg
Vitamin B11 30,0 µg
Vitamin B12 1,2 µg
Vitamin B8 7,5 µg
Vitamin B5 0,9 mg
Potassium 300,0 mg
Chloride 120,0 mg
Calcium 120,7 mg
Phosphorus 104,4 mg
Magnesium 110,4 mg
Iron 2,1 mg
Zinc 1,5 mg
Copper 0,2 mg
Manganese 0,3 mg
Selenium 8,3 µg
Chromium 6,0 µg
Molybdenum 7,5 µg
Iodine 22,5 µg
Per 1 scoop (10gr):
Taurine 2000 mg
L-tyrosine 1000 mg
Cafeïne 300 mg
Vitamine C 200 mg
L-Carnitine 100 mg
Magnesium 53 mg
Vitamine B3 6 mg
Vitamine B6 1 mg
Vitamine D3 3,3 ug
Vitamine B12 1,2 ug
50 servings per tub
sugar free
No lumps
No crash afterwards
Packed with vitamins and minerals
Developed in the Netherlands
Easy to use
100% vegan
Working formula

Energy boosting ingredients*
Vitamins and minerals for the health of your body*
Nootropics for focus and concentration**
*: Calcium, Phosphorus, Iron, Iodine, Copper, Magnesium and Manganese and vitamins B1, B2, B3, B5, B6, B8, B11 and B12 contribute to a normal energy-yielding metabolism.**: Caffeine, L-Carnitine and L-Tyrosine support concentration and performance. Take a scoop Boom Energy (10gr)

Enjoy your delicious and full of energy drink
Goed product
Smaakt goed alleen een tip het schepje is soms zoeken dit keer lag het onderin
Dank je voor de review en tip. Door het vervoeren bij de postorder bedrijven wordt de pot soms nogal door elkaar geschud en dan gaat de scoop verder naar beneden.
Boom energie
Het is echt super lekker ik drink het ook het liefste met melk. De raspberry is echt onze favoriet drink het elke dag. Ik heb altijd wel een heel vol gevoel erna zowel met water als met melk, alsof je een complete maaltijd op hebt. De gewone bidon is voor als je het met melk maakt het makkelijkste ivm het schoonmaken want de bidon met rietje krijg je slecht schoon zeker het rietje. Tip misschien een lang dun borsteltje meeleveren om het rietje goed schoon te krijgen. Die met het rietje is sowieso fijn als je bijv aan het gamen bent en je hebt een koptelefoon op dan valt deze niet af als de bidon bijna leeg is omdat je je hoofd niet naar achteren hoeft te doen. Dus super blij ermee.
BOOM wat een Energy
Frisse smaak en wat een engery boost!
Zonder dip :)